I was lucky recently to be part of a very emotional day at the wedding of the lovely Elaine and Tim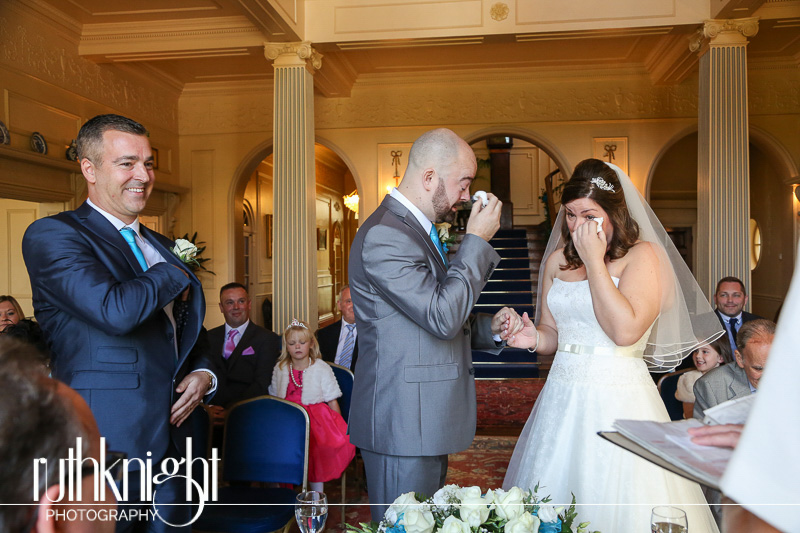 Elaine looked absolutely lovely in a dress from the fabulous Turner and Pennell, it really suited her and I particularly like the photo where she is alone in the bride's room at the Lawn having a quiet moment to herself before stepping out to meet her future husband. Elaine chose a beautiful bouquet from Linzi Robertson and the little bridesmaids had cosy wraps and single stemmed flowers whilst the older two carried posies and wore blue dresses which matched the colour of the boys ties. The dresses came from Debenhams and BHS and Tim and the boys suits came from Next.
Tears of emotion turned to smiles of happiness as Tim placed the ring on Elaine's finger.
The couple chose the excellent Lawn to host their relaxed wedding surrounded by close family and friends. It was lovely for Elaine and Tim to take a romantic walk around the extensive grounds and we got some great shots, one of my favourites is a reportage one of the couple sharing a happy moment as they walked past the fountain.
Tim's Mum looked so proud as she posed with her sons and her new daughter in law and I have to thank Andy for his help in getting the little ones to laugh whilst I took the group shots, we had lots of fun!