Sarah and Jean-Marc were joined in matrimony by parish priest Father Kevin Hale at the beautiful church of Our Lady of Lourdes in Leigh on Sea and celebrated with their reception at The Lawn in Rochford Essex.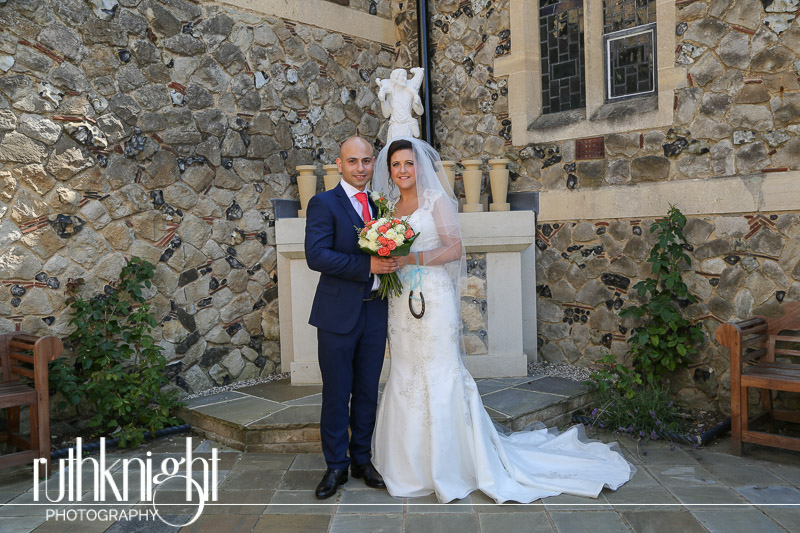 The day began with hair and make up at the Holiday Inn by the airport Southend on Sea, then a quick journey to the Lawn to put on dresses and apply the finishing touches. Sarah looked stunning in a bridal gown which fitted her like a glove. We took many lovely photographs of her with parents and bridesmaids before going to meet Jean-Marc, bestmen, ushers and guests at Our Lady of Lourdes. Jean-Marc and the boys were in good spirits and looked great in smart blue suits.
The weather was perfect and we were blessed with good light, the church and grounds make an ideal backdrop for wedding photography. Wearing a veil on a breezy day always provides good shots as the veil makes great shapes when it is carried by the wind and usually makes people laugh.
Monsignor Father Kevin gave a lovely wedding mass for Sarah and Jean-Marc and everybody joined in. It was so nice to have the recently built area next to the church to do our photographs after the service. Back to the Lawn with it's immaculate landscaped grounds to capture more memories.
Sarah and Jean-Marc were an absolute pleasure to work with, they both enjoyed having their photographs taken and creating beautiful lasting memories of their special day. Jean-Marc was so kind and kept asking if we needed a drink or anything to eat, we were surrounded by a warm, welcoming atmosphere with fabulous people on their amazing day. Thank you.