Sophie and Phill decided on the wonderful Apton Hall for their wedding ceremony, my first time at this relatively new venue and I was impressed with the building, the gardens and attention to detail. I loved the red brick, the beams, the lovely wooden doors and the old cart. There are so many lovely features to use as a backdrop to my wedding photography, and lots of space. I was also impressed by the staff who bent over backwards to help, huge thanks go out to Chloe and Craig for being consummate professionals and making the day run smoothly, it was an absolute pleasure to work with you. Oh and the meal was great!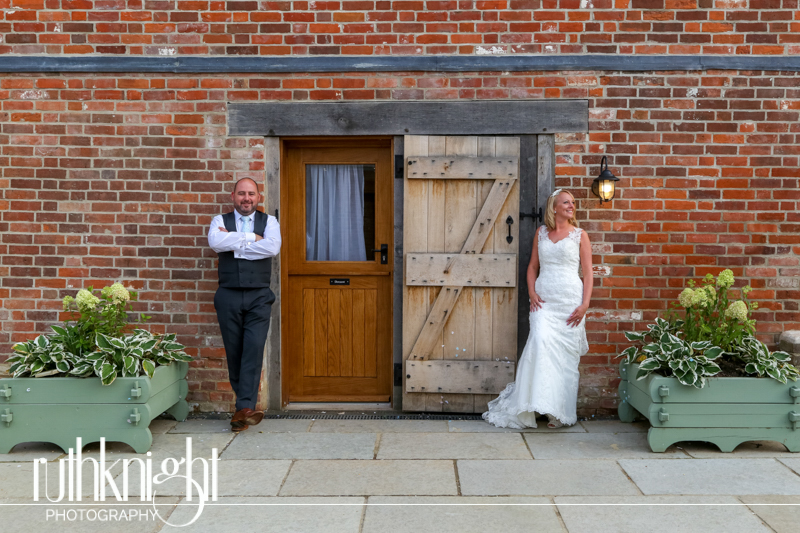 Other great professionals on the day were Arrow Cars who were great as always and it was nice to get some shots featuring their vintage Rolls Royce. It was good to see Jennie doing bridal hair and Katie Poole doing make up.
Sophie wore a gorgeous lace dress from Kay Mason, she looked beautiful. Phil and the boys looked good in dark grey suits from Anthonys in Billericay Essex. Phill took one of his favourite toys with him and posed for 'wedding photos' sitting on it.
Hayes florists made a really good job of the flowers, there were lovely displays on every table with gerberas, in various shades of pink and gypsophila in tall glasses.
Sophie and Phill are a lovely couple, friendly and welcoming, it was nice to see them so happy and enjoying their day surrounded by friends and family. I can't wait to make their Graphistudio album. Best wishes, and good luck for their future happiness.