Nicola and Christian chose the contemporary and unique Sands Bistro on Southend seafront as the perfect venue to host their wedding day.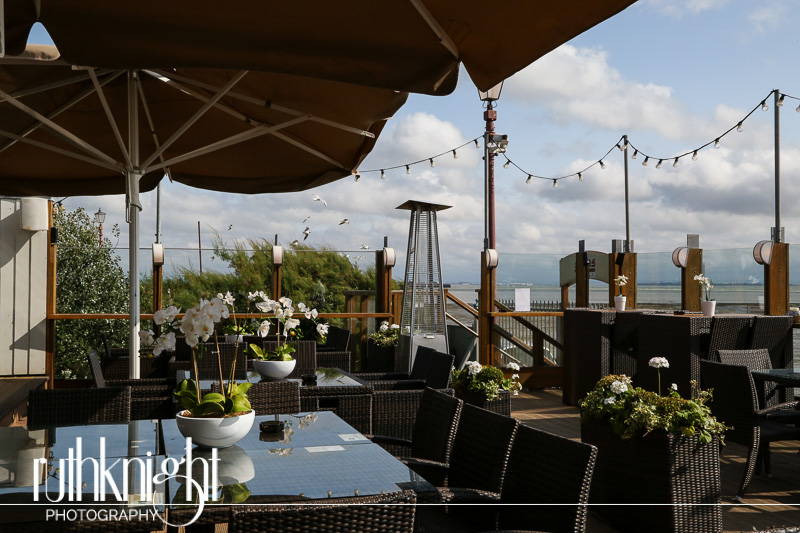 Nicola and the bridesmaids got ready just down the road at the Roslin Hotel, it was nice to bump into Sarah again, who made a lovely job of Nicola's make up. Our bride looked radiant in a fabulous, unusual ruffled dress, reminiscent of swan's feathers. Bridesmaids wore a vibrant aquamarine and Christian and the boys wore lovely light grey suits with aquamarine ties to match.
It loooked really magical with the strings of pretty lights dancing above our heads as the marriage vows were read and the ceremony took place.
Whilst this was happening the fabulous and ever inventive Natalie was outside carving a heart into the beach with an umbrella. Nothing is ever too much trouble for Natalie and I cannot recommend her enough, her enthusiasm is boundless. Big thanks go out to her and the Sands team who do their utmost to make a special day even more special.
It was a very blustery day so we did the majority of group photos indoors, the lovely grey walls provided a great backdrop evoking a studio shoot. We obviously had to take advantage of the beach and the moody lighting to get some great shots with Southend pier in the background.
Beautiful flowers complete with starfish made lovely table displays as did the lines upon lines of sea shells. Afternoon tea was served along with the speeches and afterwards games kept the guests amused.
Back to the beach to capture the changing light and the setting sun as our bride and bridesmaids braved the chilly water for a paddle. We also managed to capture an image of Nic and Chris with the pier train just as it went past.
The amazing cake featuring deck chairs and starfish was made by a close friend. A romantic first dance surrounded by family & friends brought the evening to a climax just before dancing began and a lovely barbeque was served.