It's been a funny old summer, and funny weather for Ellie and Matt's wedding, one moment we had lovely warm sun on our backs, the next it was raining. As always our lovely bride and groom Ellie and Matt didn't care about the weather and were happy to create wonderful wedding memories.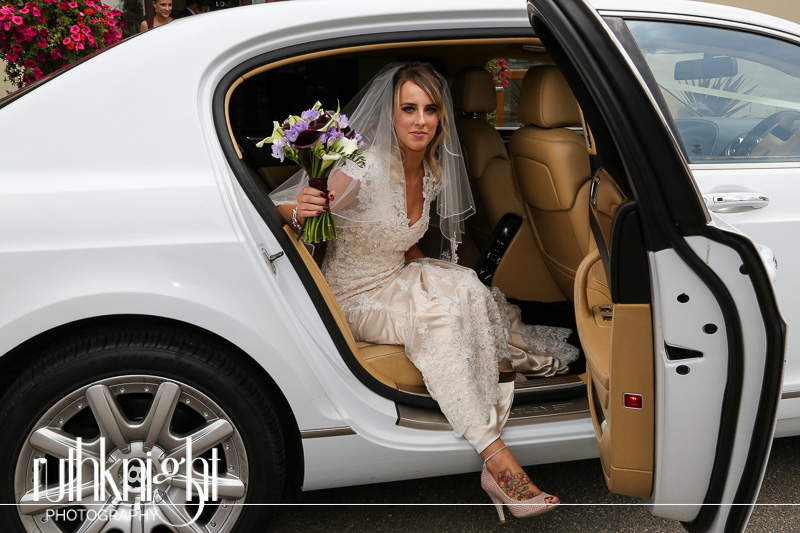 Ellie's make up was perfect, it was everything wedding make up should be and really accentuated her beautiful eyes. Ellie wore a stunning lace dress in a champagne colour designed by Alexia designs and bought at Barleylands. I have noticed a trend away from strapless dresses towards dresses with delicate lace work around the shoulders. Ellies sister Rebecca looked lovely in her magenta dress as did Auntie Pat.
The Rayleigh Club was the chosen venue for Ellie & Matt's wedding, we had a lovely ceremony followed by wedding photographs of our happy couple on the stairs and in front of the large ornate mirrors, then outside for photos by the lovely old weeping willow and on the bridge with the lake in the background.
Matt was quite nervous before the ceremony but soon forgot his nerves once Ellie arrived, the couple are so obviously in love and well matched. The boys wore tails and looked great in grey suits from Couture Bride & Groom in Hornchurch Essex and the dark magenta ties which matched the colour of the bridesmaids dresses were handmade.
We had a great confetti shot because there was so much confetti, it really makes a difference and I could hardly see the bride and groom at one point, just a sea of white petals.
The speeches were funny and had many of the guests laughing. The cake had lovely intricate flowers and was made by Samantha at a Spoonful of Sugar in Westcliff. After the speeches it was time for some fun before the first dance and we also took Ellie off to play 'model for a day' and got some lovely shots of Ellie posing.