I had a lovely day at the Roslin Beach Hotel in Thorpe Bay with the gorgeous Vicky and Daniel.
It was a bright but very windy day and Vicky was reluctant to go outside so most of our shots were done inside, not easy with 85 people and two enormous mirrors in the room but I like a challenge and we got some great shots of the happy couple and their guests.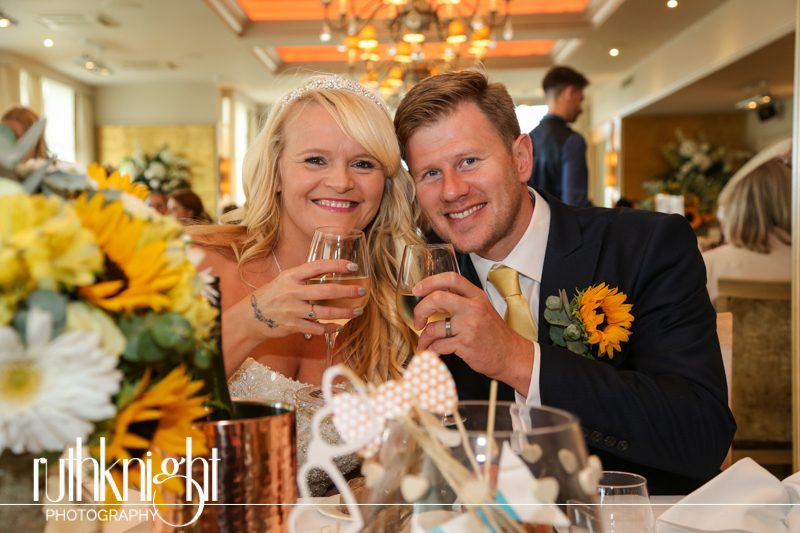 Vicky's Justin Alexander dress from Bellas Bridal Suite in Upminster was absolutely beautiful with an ornate bodice which fitted her perfectly and a full skirt and train. The bridesmaids had Grecian looking dresses in blue and they all had lots of fun, I'm betting the hen do was a scream.
Daniel wore a really smart classic William Hunt suit from Saville Row.
The bouquets reminded me of Tuscany with big sunflowers which looked great against the blue dresses.
Daniel's Mum looked very emotional as she watched her son getting married. Vicky chose to have Dad and Grandad walk her down the aisle which was a nice touch.
This kind caring couple looked so happy together. I did manage to get Vicky out for a short time as Daniel really wanted a photo with his classic Mini, I took the opportunity to get a couple of shots with the palm trees in the background too, and we also got a nice confetti shot.
My final shot of Vicky and Daniel as I left them to enjoy their evening at the Roslin was a warm happy shot of a lovely couple.