July is a popular choice as a wedding date, brides and grooms hope for warmth and sunshine, however when Rebekah and Andrew's big day came around the skies opened and it poured with rain. Consequently most of our photos were taken indoors. The rain did not dampen our spirits and luckily Leigh Road Baptist Church where Rebekah and Andrew had chosen to get married, has in recent years undergone considerable improvements and we had good light and plenty of space to work in.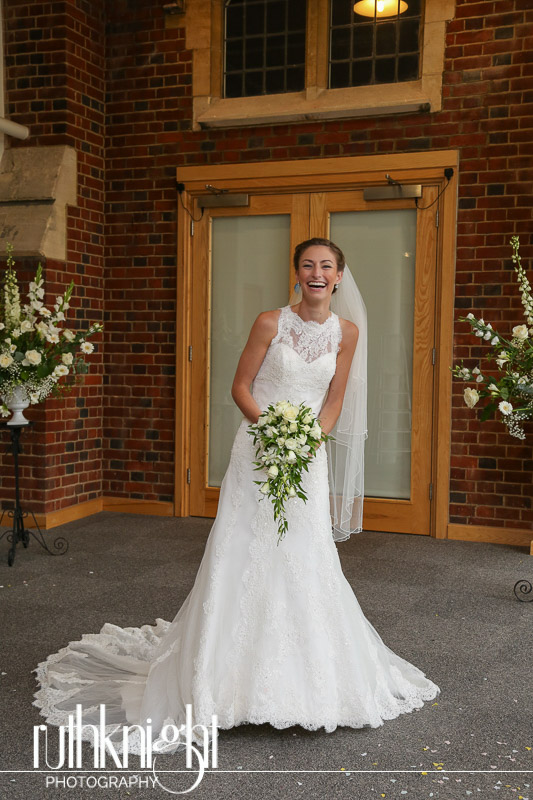 Rebekah looked stunning in a beautiful dress from Kay Mason, it had a lovely lace bodice which really suited her, a veil provided the finishing touch. Bridesmaids, twin sister Sarah and friend Amy looked lovely in teal blue dresses. Andrew and the boys looked great too!
Rebekah and her Father arrived at the church in a vintage Rolls Royce and kept dry under an umbrella as they walked in. It was a beautiful service led by Rev. Steve Tilling.
The wedding reception was held at the Roslin Beach Hotel in Thorpe Bay, a great venue for wedding celebrations. Rebekah and Andrew had hoped for some beach shots so we watched and waited and as soon as there was a break in the rain we headed out to the beach. Andrew swooped Rebekah up and carried her and I was able to get some lovely shots of the happy, smiling couple with the estuary behind them, we also made good use of the beach.