Zoe and Rob chose a vintage theme for their Spring wedding at the Lawn Rochford Essex. It's always good to work at the Lawn, knowing that everything will be taken care of and run smoothly.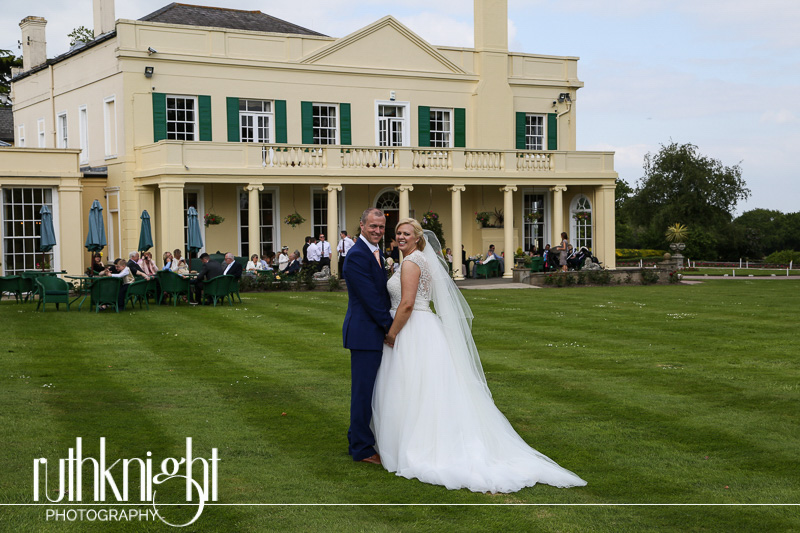 Zoe's hair was done in pin curls at the back and she wore a beautiful vintage style slide which really set it off. Her make up was done by the lovely Katie Poole. The flowers were gorgeous with various shades of peach set amongst a sea of lace with beads adorning the arrangements.
The Orangery looked lovely with the tables all laid out. Rob and his bestman wore blue suits and the pageboys and flower girls looked lovely in their dark cream and white outfits. Daughter Daisy looked like an angel with a garland of tiny white flowers for a headdress.
Zoe's dress was beautiful, in a 30's vintage style with a stunning lace bodice buttoned up at the back, it was bought from the fabulous Turner and Pennell based in Rayleigh Essex. Flowers were by Kate at Celebration Moments
Rob beamed with pride and Zoe looked really happy as she walked down the staircase at the Lawn with brother David.
Zoe and Rob are a fun, happy couple to be around and we had a few laughs photographing them through a silver frame hung onto a tree branch. They wanted a group shot in the shape of a heart and we managed to achieve this.The cake was made by Sue at Finesse, it was beautifully iced in a very pale apricot with delicate flowers and beads to complement the theme.As always the gardens surrounding the Lawn provided a perfect backdrop for my wedding photography.