An exciting day for Sam & Matt as they saw all their wedding plans come to fruition. The day started at Sam's Nan's house in Romford where all the girls got ready. Sam was very proud of her nails, which she informed me had taken 5 hours to do , they looked amazing, like a work of art. As this is what Sam does for a living it was very important to her that they were right so we took lots of bridal preparation photos featuring them.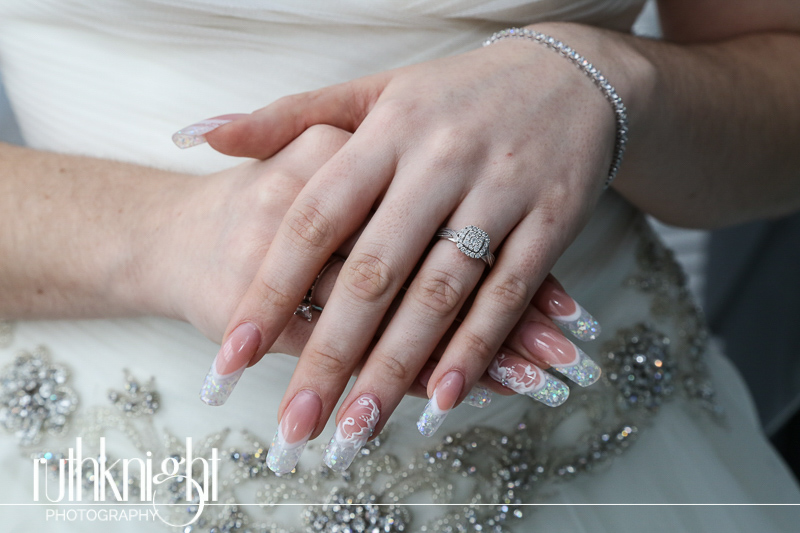 Unbeknown to our bride, whilst Sam was getting ready Matt was at the reception venue shifting tables and moving the cake. Luckily as part of his job Matt has a van and the extra tables had to be stored in this. The scariest moment was moving the cake, all four tiers of it, made by a friend. It shifted precariously on the front seat of the van with Adam, Matt's brother and Best man struggling to hold on to it. The cake had to be re-arranged at the reception venue and Matt's sister had to do her best to fix the icing frills.
Meanwhile Sam was stepping into her beautiful Justin Alexander dress which she had bought from Precious Moments in Rayleigh, she looked lovely and it was great to get photos of her by the window.
Abbey Wedding cars took Sam, Mum, Nan and bridesmaids to the wedding venue, one I haven't been to for a while, Langtons House. It's a fabulous venue because it has beautiful mature gardens which are perfect for wedding photography, and a lovely staircase where the bride and groom can pose for wedding photographs after the ceremony.
Matt had rushed to Langtons House in Billet Lane, Hornchurch with minutes to spare having dealt with the issues of the morning but still managed to look great in a suit from Anthonys in Billericay.
The flower girls entered first wearing dresses from good old M&S, closely followed by the bridesmaids wearing coral dresses from House of Frazer. Then Sam walked into the room carrying her bouquet, she was very emotional and at one point I thought she was going to faint, but the ceremony went without a hitch and Sam and Matt were married. Daughter Ellie aged 10 looked on proudly as Mum and Dad were married and joined them for the signing of the register.
Into the beautiful grounds of Langtons House for wedding photos finishing with confetti and poses by the car.
We then went on to Lennards in Rainham where a friendly reception awaited us. More photos here of the cake cutting, friends and the first dance. DJ Ricky Hollands from Nightlife discos uk was really good as were the creative Balloon Company, I am reliably informed that they are lovely people, very helpful and full of fantastic ideas.
We had a smashing day and I look forward to making Sam & Matts Graphistudio wedding book in the near future.