The best way to describe Lucy and Dan's wedding at the fabulous Lawn in Rochford Essex is to say 'fun, fun, fun'! Lucy looked like a real life princess with a sparkling tiara and perfect makeup and a beautiful frothy full skirted dress with layers and layers of net.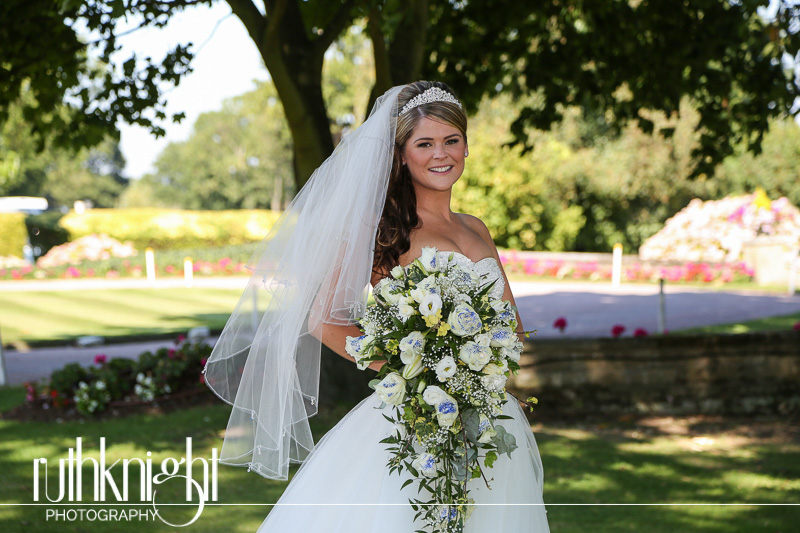 Her cheeky bridesmaids all looked gorgeous too in blue one shoulder dresses and little Hallie looked lovely and played up for the camera.
The boys decided to have a laugh by arriving in a Trotter style 'Only Fools and Horses' Reliant which we pretended had broken down and needed a push, so it was jackets off and springing into action which was closely followed by the customary 'Resevoir Dogs' shot which the boys always seem to enjoy and is nice to do when we have a group.
I got a lovely shot of Hallie looking down over the balcony enjoying a thoughtful moment whilst everyone got ready for the ceremony to start.
Dad joined in the laughter and still had a huge smile on his face as he walked a radiant Lucy down the aisle.
Vows were made, rings were exchanged then it was through the doorway into the grounds for drinks and photos. Luckily there are mature trees which provide shade, as I was working on probably the hottest day of the year. We did a nice tour of the gardens at the Lawn before commencing with our group shots again under the shade of the trees.
The orangery looked amazing with many stunning flowers, balloons, garlands and carefully chosen table settings. The biggest surprise of the day was the performance by the 'best singing waiters', www.thebestsingingwaiters.com Ryan and Danny gave a great show, strutting around, jumping on chairs and generally having a good time and making sure everyone else had a good time too. Lucy and Dan led a conga through the orangery, outside and back again. The grand finale prompted waving table napkins and singing loudly, I don't even remember the song, just standing on a chair trying to get great shots of everybody.
It was a hard act to follow but Lucy's Dad, Dan and bestmen did a great job, Dan managed to make me blush by pointing right at me and thanking me which is always nice, even though it's a pleasure to be part of somebody's big day.
We finished the day by going outside for a couple more shots including one by my favourite tree before heading back inside for the first dance.
Fabulous day. Thank you.